Kentucky 4 Hour HVAC CE Course A
This course contains four hours of continuing education training designed for HVAC tradesmen in the State of Kentucky. The focus of the content of this course is the International Mechanical Code and changes made to the first seven chapters of that Code.
The first portion of the course will concern the history and structure of the IMC.
The remainder of this course will examine each of the first seven chapters and highlight where provisions have been changed.
The course is broken up by a series of small quizzes designed to promote comprehension and retention of the material.
Show Course ID: 1
Course ID(s):

HVACCEC-870004

Approved By:

Kentucky Dept. of Housing and Building
Instructor Bio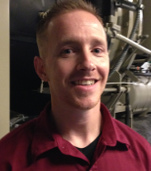 Dan Whaley, was trained in HVAC in the Air Force where he spent eight years after high school. His time in the Air Force gave him the opportunity to do everything from repairs of advanced systems to planning the development and implementation of preventative maintenance programs that were used in over 250 facilities.Dan is currently a Lead Technician for a one million square foot, 300+ bed medical hospital.

Since 2010 Dan has been an instructor with At Your Pace Online overseeing the development and class delivery of every HVAC offering that we have. The courses that Dan instructs have been used by tens of thousands of HVAC technicians, including many where online education had not previously been allowed.
August 27th, 2019 -

skeeter

Nice job

Very informative

March 16th, 2019 -

Thomas

very user friendly and informative

It was nice and got to do from home

November 28th, 2018 -

Keith

Nicely done. Convenient and definitely allows you to complete at your pace.

September 17th, 2019 -

richard

i would rather sit in a class, with other people.

It was not bad at all !

September 24th, 2018 -

Richard

September 30th, 2019 -

Chad

September 24th, 2019 -

Leslie

September 15th, 2019 -

Devin

September 5th, 2019 -

Terry

September 3rd, 2019 -

Adam

September 1st, 2019 -

Chris

August 20th, 2019 -

Teresa

August 4th, 2019 -

Donald

NA

July 30th, 2019 -

William

April 29th, 2019 -

Burley

April 26th, 2019 -

Charles

April 3rd, 2019 -

Furland

January 19th, 2019 -

Charles

January 15th, 2019 -

Mark

January 7th, 2019 -

Antonio

November 27th, 2018 -

Randy

November 17th, 2018 -

Jordan

November 14th, 2018 -

Heath

October 28th, 2018 -

michael

September 30th, 2018 -

Justin

September 23rd, 2018 -

Brian

September 21st, 2018 -

Spencer

October 1st, 2019 -

Bairy

September 26th, 2019 -

Elisha

September 17th, 2019 -

Randy

September 16th, 2019 -

billy

September 5th, 2019 -

Sammy

August 26th, 2019 -

Kevin

August 26th, 2019 -

peter

March 23rd, 2019 -

Michael

February 16th, 2019 -

Jacob

January 15th, 2019 -

Gary

September 12th, 2019 -

Ryan

September 6th, 2019 -

James

September 5th, 2019 -

Denzil

August 3rd, 2019 -

Stephen