Alaska 8 Hour 2018 IMC Changes Course
This class is designed to fulfill the eight hours of continuing education needed every two years in order to renew an Alaska HVAC Administrator's license. It covers every significant change made to the IMC from 2012 through 2018. Topics covered include:'
Introduction to the Class; Alaska Amendments; and Changes to Chapter 1 of the 2018 IMC [Scope and Administration]
Changes to Chapter 2 of the 2018 IMC [Definitions]

40 new or revised definitions vital to understanding and correctly applying the provisions of the IMC.

Changes to Chapter 3 of the 2018 IMC [General Regulations]

The most significant changes to this widely applied chapter, including codes regarding Confined Spaces, Fall-Arresting Restraint Systems, Ductless Mini-Split Systems, and Condensate Pumps

Changes to Chapter 4 of the 2018 IMC [Ventilation]

Critical revisions and additions for the installations now, since the COVID-19 pandemic, seen as more vital than ever

Changes to Chapter 5 of the 2018 IMC [Exhaust Systems]

The chapter with the most changes from 2012 to 2018, including new rules on mechanical exhaust systems or power ventilators, new rules for on termination outlets, and new exhaust calculation methods, along with extensive changes on codes for commercial kitchen hoods and a new exception for ERVs (Energy Recovery Ventilation Systems).

Changes to Chapter 6 of the 2018 IMC [Duct Systems]

Some key changes for plenum installations, Duct Construction and Installation, Duct and Transfer Openings, and Smoke Dampers

Changes to Chapters 7 through 10 of the 2018 IMC

13 changes spread among the chapters on Combustion Air; Chimneys and Vents; Specific Appliances Fireplaces and Solid Fuel-Burning Equipment, and Boilers, Water Heaters, and Pressure Vessels, including a new section on High-Volume Large-Diameter Fans and a new exception for Hot Water Boiler Expansion Tanks

Changes to Chapter 11 of the 2018 IMC [Refrigeration]

An in-depth look at some of the latest regulations and innovations in refrigerants and the heightened safety concerns with new flammable formulations along with a look at changes to several code sections and to Table 1103.1.

Changes to Chapters 12&13– Hydronic Piping & Fuel Oil Piping and Storage

Some of the most forward-looking codes in the IMC, including those on Hydronic Pipe Systems, Geothermal HVAC, and Ground-Source Heat Pump Loop Systems.

Changes to Chapters 14&15 [Solar Thermal Sys & Referenced Standards]

A thoroughly overhauled Chapter 14 intending for wider and easier application of codes on solar thermal water heating and HVAC systems.
Show Course ID: 0
Approved By:

AK Department of Commerce, Professional Licensing
Instructor Bio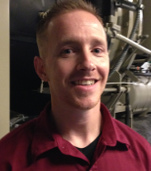 Dan Whaley, was trained in HVAC in the Air Force where he spent eight years after high school. His time in the Air Force gave him the opportunity to do everything from repairs of advanced systems to planning the development and implementation of preventative maintenance programs that were used in over 250 facilities.Dan is currently a Lead Technician for a one million square foot, 300+ bed medical hospital.

Since 2010 Dan has been an instructor with At Your Pace Online overseeing the development and class delivery of every HVAC offering that we have. The courses that Dan instructs have been used by tens of thousands of HVAC technicians, including many where online education had not previously been allowed.