Massachusetts Electrical Continuing Education
Take the continuing education to renew your MA electrician's license today. All of our courses can be completed At Your Pace Online to help you meet the state's requirements to maintain your license. Once you finish your class you will have an official certificate of completion to save for your records.
You can find us on the List of Mandatory Continuing Education Providers under the name Chuck Price, our instructor, and At Your Pace Online, our Provider name. Our PIN number is 450.
CE Requirements to Renew a MA Electrical License
All individuals holding a Journeyman or Master Electrician license are required to obtain 21 hours of continuing education in the three-year period prior to renewal which is July 31st.
6 hours of continuing education shall be on Professional Development.
15 hours of continuing education shall be on topics related to the Massachusetts Electrical Code and other laws and regulations pertaining to Electrical Work.
All of our courses are approved for A and B license types.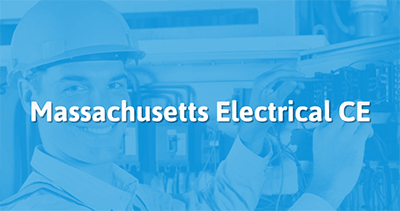 Massachusetts State Approval Letters
Commonwealth of Massachusetts
Division of Professional Licensure
BOARD OF STATE EXAMINERS OF ELECTRICIANS
1000 Washington Street Suite 710
Boston, Massachusetts 02118-6100
April 3, 2019
At Your Pace Online
1050 Westminster St
Fitchburg MA 01420
To Whom It May Concern
Please be advised that your organization is approved for the 2017 NEC code cycle to conduct the 15hr continuing education program online for Massachusetts licensee renewal eligibility. As a reminder per the Board's regulations you must resubmit for re-approval 3 months prior to the Code change in January 2020. Please direct any questions in this regard to the Board office at the number listed below.
Sincerely,
Tamara Smith
Program Coordinator
Electricians.Board@state.ma.us
TEL - 617-727-9931 FAX - 617-727-9932