Georgia 4 Hour 2018 IMC: Chapters 1, 2, & 5-8
This class provides a broad and engaging overview of the code review process and how the International Mechanical Code® (IMC) is applied, followed by a look at the many changes to Chapter 2 (Definitions). The class then covers the changes made during the 2015-2018 code review cycle to two of the most widely used chapters of the 2018 IMC: Chapter 5 on Exhaust Systems and Chapter 6 on Duct Systems, ending with a single change to Chapter 8 on Chimneys.
Module 1 Code Development Process; How the IMC is Applied & Chapter 1-Scope and Administration
Module 2 Chapter 2 – Definitions: Discussion of new or revised meanings in the IMC for the defined terms Access; Approved Agency; Building; Direct Solar System; Drain-Back System; Food-Grade Fluid; High-Volume Large-Diameter Fan; Indirect Solar System; Labeled; Low-Probability Pump; Machinery Room; No-Flow Condition (Solar); Non-Food-Grade Fluid; Occupational Exposure Limit (OEL); Piping; Pollution-Control Unit (PCU); Press-Connect Joint; Ready Access (to), and Solar Thermal System, as well as the highly significant change to COMMERCIAL COOKING APPLIANCES.
Module 3 Chapter 5 - Exhaust Systems: Changes to Section 505 [Domestic Cooking Exhaust Equipment]; 506.3.13.2 [Termination Through an Exterior Wall]; 506.5.2 [PCUs]; 507.2.6 [Clearances for Type I Hood]; 507.6.1 [Capture and Containment Test]; 509.1 [Fire Suppression Equipment]; 510.8.1 [Duct Cleanout] 512.2 Subslab Soil Exhaust System]; and Section 513 [Smoke Control System].
Module 4 Chapter 6 - Duct Systems: Changes to 601.5 [Return Air Openings]; six changes Section 602 [Plenums]; three changes to Section 603 [Duct Construction and Installation] and five changes to Section 607 [Duct and Transfer Openings].
Module 5 Chapters 7&8: One change to Chapter 8 [Chimneys and Vents].
Show Course ID: 0
Approved By:

State Construction Industry Licensing Board
Instructor Bio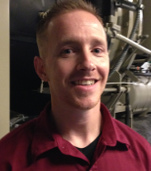 Dan Whaley, was trained in HVAC in the Air Force where he spent eight years after high school. His time in the Air Force gave him the opportunity to do everything from repairs of advanced systems to planning the development and implementation of preventative maintenance programs that were used in over 250 facilities.Dan is currently a Lead Technician for a one million square foot, 300+ bed medical hospital.

Since 2010 Dan has been an instructor with At Your Pace Online overseeing the development and class delivery of every HVAC offering that we have. The courses that Dan instructs have been used by tens of thousands of HVAC technicians, including many where online education had not previously been allowed.