Georgia 4 Hour 2018 IMC: Chapters 3, 4, & 9-14
This class covers the changes made during the 2015-2018 code review cycle to two "core" chapters of the 2018 International Mechanical Code® (IMC) - Chapter 3 on General Regulations and Chapter 4 on Ventilation – that are basic to all HVAC tasks. This is followed by some of the most varied and challenging codes in the 2018 IMC including those regarding fireplaces, pressurized hot water vessels, refrigeration, hydronic heating, and fuel oil systems. The class finishes with an in-depth look at the emerging technology of HVAC and electrical power generation from heat transfer fluids that absorb solar radiation for use within the structure. Chapter 14 has been heavily revised for 2018 and offers new opportunities for "green" HVAC.
Each change in this class is presented in a "cut-and-paste" format with any deletions and additions from the 2015 IMC clearly shown. Each change is then discussed for the reason it was made and how it impacts a working HVAC contractor or technician, based in part on the proceedings of the ICC Technical Committees.
Module 2 Chapter 4 – Ventilation: Changes to Table 401.5 [Intake Opening Protection]; Table 403.3.1.1 [Minimum Ventilation Rates]; Sections 403.3.2.4 [System Controls]; and 403.3.2.5 [Ventilating Equipment]; and Section 404.1 [Enclosed Parking Garages].
Module 3 Chapters 9&10: Two changes to Chapter 9 [Specific Appliances, Fireplaces, and Solid Fuel-Burning Equipment]; and two changes to Chapter 10 [Boilers, Water Heaters, and Pressure Vessels].
Module 4 Chapter 11 – Refrigeration: A comprehensive review of the Phase-Out and Addition of Refrigerants; and changes to 1104.2.2 [Industrial Occupancies and Refrigerated Rooms]; 1105.6 [Machinery Room Ventilation]; 1105.6.1 [Discharge Location]; 1105.6.3 [Ventilation Rate]; 1107.2 [Piping Location], and an introduction and overview to numerous changes related to the new Subclass A2L Flammable Refrigerants.
Module 5 Chapter 12 – Hydronic Piping & Chapter 13 – Fuel Oil Piping: Changes to Tables 1202.4 & 1202.5 [Hydronic Pipe & Pipe Fittings]; Section 1203.3.3 [Soldered Joints]; Section 1203.6.3 [Press-Connect Joints]; 1209.3.5 PEX Joints; 1209.5.1 & 1209.5.2 Slab-On-Grade Suspended Floor Installation; and Tables 1210.4 & 1210.5 [Ground-Source Loop Pipe and Fittings]. Followed by changes to Sections 1303.1.1 [Joints Between Different Piping Materials]; Section 1303.3.2 [Mechanical Joints]; and 1303.4 & 1303.5 [Brass Pipe & Tubing].
Module 7 Chapter 14 – Solar Thermal Systems: A survey of key components and technical considerations in non-photovoltaic solar energy systems that can be applied directly to HVAC. This is followed by a discussion of the thorough overhaul of this chapter, including changes to Section 1401 [General], seven changes to Section 1402 [Design and Installation], and one change each to Section 1403 [Heat Transfer Fluid] and Section 1404 [Materials Labeling].
Module 8 Summary & Review of Changes to the 2018 IMC3) 8-hr Georgia Changes to the 2018 IMC
Show Course ID: 0
Approved By:

State Construction Industry Licensing Board
Instructor Bio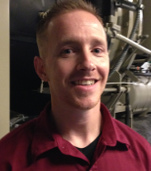 Dan Whaley, was trained in HVAC in the Air Force where he spent eight years after high school. His time in the Air Force gave him the opportunity to do everything from repairs of advanced systems to planning the development and implementation of preventative maintenance programs that were used in over 250 facilities.Dan is currently a Lead Technician for a one million square foot, 300+ bed medical hospital.

Since 2010 Dan has been an instructor with At Your Pace Online overseeing the development and class delivery of every HVAC offering that we have. The courses that Dan instructs have been used by tens of thousands of HVAC technicians, including many where online education had not previously been allowed.