Iowa 4 Hour 2015 IMC Complete Review CE Package
AYPO's 4-hour course provides a complete overview of the changes and updates to the IMC for HVAC contractors, and will fulfill part of their CE hours.In the course, we'll review some of the most important amendments and updates to the IMC made for the 2015 edition.
We'll start with the changes to Chapter 1, which contains direction on the basic administration procedures and other policies for HVAC contractors. Chapter 2 will cover the definitions used in the IMC, so we'll look at the changes to important definitions there.
Our Chapter 3 review will discuss the general regulations that have changed, including those which apply to confined spaces, evaporators, condensate pumps, and more. In Chapter 4, we'll cover ventilation requirements such as recirculation prohibitions. We'll talk about the changes to the rules for outdoor airflow rates, and discuss new codes in Section 403.3.
Finally, we'll move into a discussion of geothermal energy, which provides power generation for application around the world. We'll talk about the Chapter 12 changes which address energy code compliance, before tackling oil piping and storage (Chapter 13), solar systems Chapter 14), and the standards discussed in Chapter 15.
Next, the course will provide instruction on the changes to Chapters 5-11, which contain some of the most extensive code changes. It addresses various exhaust systems, as well as techniques for pressure equalization. It also covers grease duct enclosures, cleanouts, and exhaust systems and hoods such as those in commercial kitchens. We'll also discuss air balance for commercial kitchen ventilation, hazardous exhaust duct penetrations, and energy recovery systems.
In Chapter 6, we'll take a look at concerns in duct systems, such as return air openings, plenums, joints, dampers, and in Chapter 7, the standards and ratings for certain materials.
In Chapter 8, we'll talk about the changes to regulations for chimneys and vents, fireplace doors, and evaporative coolers. Chapter 9 will address openings for air.
Chapter 10 will cover the new versions of rules for low-water cutoffs in boilers, as well as bottom blow-off valves. We'll end the class by covering changes to Chapter 11, which deals with access port protection, refrigerant classifications, and refrigerant piping.
Show Course ID: 0
Approved By:

Iowa Department of Public Health
Instructor Bio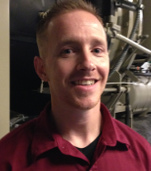 Dan Whaley, was trained in HVAC in the Air Force where he spent eight years after high school. His time in the Air Force gave him the opportunity to do everything from repairs of advanced systems to planning the development and implementation of preventative maintenance programs that were used in over 250 facilities.Dan is currently a Lead Technician for a one million square foot, 300+ bed medical hospital.

Since 2010 Dan has been an instructor with At Your Pace Online overseeing the development and class delivery of every HVAC offering that we have. The courses that Dan instructs have been used by tens of thousands of HVAC technicians, including many where online education had not previously been allowed.