Kentucky HVAC Continuing Education Course 2
This 8-hour* course is specifically designed for HVAC technicians in Kentucky. It will satisfy all of the continuing education requirements needed for renewal!
In the course, we'll start by reviewing the history of the International Mechanical Code, before we dive into the most important changes and additions to the code.
In Chapter 8, we will discuss the new regulations for chimneys and vents - including design, construction, repair and more. Chapter 9 continues to review the code changes to requirements for fireplaces, solid fuel-burning equipment, and related appliances.
Chapter 10 will focus on equipment like boilers, water heaters, and pressure valves, and the revisions to the regulations for proper installation. Chapter 11 addresses refrigeration, including the hazardous nature of certain refrigerants and new rules for them. We'll talk about zeotropic and azeotropic types of refrigerants.
In Chapter 12, we will cover hydronic piping required for use in climate controls systems, as well as proper construction, installation, and maintenance of these systems. Current regulations for fuel oil storage and piping systems will be reviewed in Chapter 13.
In Chapter 14, we will cover photovoltaic systems used to harness solar energy. This includes the required access and protections necessary when working with these systems. Finally, Chapter 15 lists the standards which are referenced throughout the codebook, providing a central location for reference. We'll review the most important changes made here as well, before we move on to the second section of our course: business contracts.
In our discussion of business contracts, we'll talk about some basic contract law that you'll need to understand when using business contracts. This includes a review of case law, which is formed by the decisions of courts on past cases.
*Note: Up to 12 hours of CE (beyond the annual CE requirement) can be carried over to your next year renewal.
Show Course ID: 0
Instructor Bio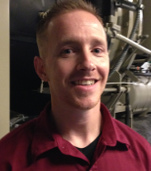 Dan Whaley, was trained in HVAC in the Air Force where he spent eight years after high school. His time in the Air Force gave him the opportunity to do everything from repairs of advanced systems to planning the development and implementation of preventative maintenance programs that were used in over 250 facilities.Dan is currently a Lead Technician for a one million square foot, 300+ bed medical hospital.

Since 2010 Dan has been an instructor with At Your Pace Online overseeing the development and class delivery of every HVAC offering that we have. The courses that Dan instructs have been used by tens of thousands of HVAC technicians, including many where online education had not previously been allowed.
February 8th, 2019 -

James M

i felt it was informative and quicker than id imagined

January 8th, 2019 -

Matthew

Really enjoyed the contract section. I am preparing for my masters and it was a great review.

December 7th, 2018 -

Jamie

The Course is much more intune with the needs of a Journeyman than alot of the brick and mortar classes i have attended.

not really

September 29th, 2018 -

Alfred

nice class

Great course

May 28th, 2018 -

Clifford

April 10th, 2018 -

Samuel

March 12th, 2018 -

Dustin

mo thanks

February 1st, 2018 -

Keith

Easy to use. Flowed very well.

I learned from taking the course and will take some more of them.

February 18th, 2019 -

Patrick

Half of course was about legal.

February 19th, 2018 -

ISAAC

contract law does not affect me as a journeyman

April 29th, 2019 -

Brandon

March 17th, 2019 -

Jonathan

March 12th, 2019 -

Jamason

February 28th, 2019 -

Johnathan

February 28th, 2019 -

John

February 25th, 2019 -

Richard

February 24th, 2019 -

Gordon

February 24th, 2019 -

Derek

February 12th, 2019 -

Joseph

February 12th, 2019 -

James

February 5th, 2019 -

Freeman

January 29th, 2019 -

Albert

January 27th, 2019 -

Shane

January 26th, 2019 -

MICHAEL

January 21st, 2019 -

William

January 21st, 2019 -

John

January 5th, 2019 -

Robert

January 2nd, 2019 -

JASON

December 26th, 2018 -

Haydon

December 26th, 2018 -

Gary

December 25th, 2018 -

Paul

December 20th, 2018 -

Howard

December 19th, 2018 -

DIRK

December 18th, 2018 -

lawrence

December 18th, 2018 -

Christopher

December 11th, 2018 -

Brandon

December 3rd, 2018 -

Chris

November 30th, 2018 -

Larry

November 29th, 2018 -

Michael

November 9th, 2018 -

Kenneth G

November 4th, 2018 -

Christian

November 4th, 2018 -

william

November 2nd, 2018 -

Joel

October 23rd, 2018 -

James

October 19th, 2018 -

ROBERT

October 18th, 2018 -

William

October 14th, 2018 -

Timothy

October 2nd, 2018 -

kelly

September 28th, 2018 -

Ricky

September 27th, 2018 -

steven

September 27th, 2018 -

Michael

September 26th, 2018 -

Brett

September 25th, 2018 -

Edward

September 24th, 2018 -

James

September 24th, 2018 -

David

September 24th, 2018 -

michael

September 23rd, 2018 -

shannon

September 20th, 2018 -

Richard

September 15th, 2018 -

Anthony

September 6th, 2018 -

John

September 5th, 2018 -

Donald

NA

August 29th, 2018 -

Joshua

August 22nd, 2018 -

brian

August 17th, 2018 -

Spencer

August 16th, 2018 -

jason

August 10th, 2018 -

Jason

June 29th, 2018 -

Matthew

June 28th, 2018 -

Michael

June 26th, 2018 -

PATRICK

June 18th, 2018 -

Brian D

June 7th, 2018 -

testificus

June 1st, 2018 -

Jeremiah

April 17th, 2018 -

Justin

April 11th, 2018 -

Trenton

March 27th, 2018 -

Kenneth

March 24th, 2018 -

Stuart G

March 13th, 2018 -

Robert

March 1st, 2018 -

Christopher

February 27th, 2018 -

Albert

February 25th, 2018 -

Gordon

February 25th, 2018 -

Mark

February 25th, 2018 -

Darren

February 20th, 2018 -

Jason

February 18th, 2018 -

Daniel

February 7th, 2018 -

Chris

January 30th, 2018 -

Robert

January 25th, 2018 -

Joseph

January 22nd, 2018 -

Bryan

January 12th, 2018 -

James

March 17th, 2019 -

Michael

February 25th, 2019 -

Richard

February 24th, 2019 -

Christopher

February 23rd, 2019 -

Samuel

February 21st, 2019 -

Devin

January 27th, 2019 -

Daniel

January 21st, 2019 -

Danny

January 16th, 2019 -

Roger

December 27th, 2018 -

mike

December 9th, 2018 -

Jerry

November 19th, 2018 -

Rusty

November 17th, 2018 -

Jeff

November 4th, 2018 -

Scott

October 23rd, 2018 -

Chet

September 30th, 2018 -

TERRY

September 27th, 2018 -

Gerald

September 23rd, 2018 -

Nejad

September 22nd, 2018 -

Steven

August 26th, 2018 -

Nathan

July 30th, 2018 -

Charles

February 28th, 2018 -

Travis

February 2nd, 2018 -

Randy

January 30th, 2018 -

Richard

February 28th, 2019 -

Jeremy

December 15th, 2018 -

Kyle

November 26th, 2018 -

MALCOLM

October 2nd, 2018 -

Logan

April 9th, 2018 -

Derrick

January 18th, 2018 -

Mark