2020 Statewide Codes for Plumbers in Kentucky (5 Hours Code)
This 5-hour course will provide Kentucky plumbers with an overview of the Kentucky State Plumbing Code, including both new and updated sections of the code.
The class begins with a review of the laws and regulations that dictate how the Kentucky State Plumbing Code is administered, covering the types of licenses and requirements for education, before moving on to the Code itself.
The body of the code review begins with the 22 Basic Principles of the code which are intended to promote sanitary and safety principles for both industry professionals and consumers.
Some basic changes that will be covered include: licensing, permits, and vehicle identification requirements. The class moves on to cover topics such as regulations for waste pipe systems, house sewers, and medical gas piping installations, and a new section that now houses the bulk of provisions for water heating devices among others.
The class will focus on Kentucky-specific conservation issues, and will cover the International Energy Conservation Code and its pathways of compliance.
Some other topics this course will cover include:
Kentucky Administrative Rules
Current codes adopted by Kentucky; KBC, KRC, IMC, IECC, NFPA, etc.
The 22 Basic Principles that lay the foundations of the Kentucky Plumbing Code
The Kentucky Administrative Regulations
Permits and fees
Water Heating Devices
Lead-Free Rules
Plumbing Fixtures
Minimum Fixture Requirements
The International Energy Conservation Code (IECC)
This course includes an incremental quiz of 4 questions approximately every 20 minutes.
Show Course ID: 0
Approved By:

Kentucky Division of Plumbing
Instructor Bio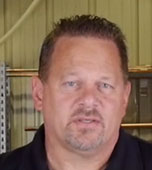 Randy Drake is a licensed, master plumber with over 32 years' experience in the industry. He founded a plumbing business in 1993 which he successfully sold in 2013. He currently works for a plumbing company based in Traverse City, Michigan.