New Mexico Industry-Related - Drainage Systems Disposal or Reuse (8 Hours)
Prior to renewal or reinstatement of a journeyman plumber certificate of competence, the applicant for renewal or reinstatement is required to complete a minimum of sixteen (16) hours of approved course work. This class fulfills 8 hours of that requirement and is designed to accompany an 8-hour code change class. This class is comprised of three Modules:
Module #1 Residential Water Heaters (3 Hours)
This module covers two related topic areas:
1) Sanitary Drainage Systems - the principles as well as the nuts and bolts of a well-designed system, with the following lessons:
Capacities; Maintaining Flow Rates Slope; Pneumatic Pressure & Backflow
Cleanouts,
Pumps & Interceptors,
Floor Drains;
Metal, Plastic, Clay & Concrete Piping; Thermal Expansion;
Combination DWV Systems & Wet Venting.
Vacuum Drainage Systems & Replacement of Sewers by the Pipe-Bursting Method
2) Grease Interceptors - a practical guide including Required Locations, Types of Grease Interceptors, Installation & Maintenance & Sample Codes and Standards
Module #2 Rainwater, Graywater & POWTS (3 Hours)
This module covers three related topic areas:
1) Graywater Systems - a specific and detailed survey, including Basic Rules, Economics, Health Concerns, Estimating Graywater & Best Practices for Design, Installation & Maintenance
2) Private Onsite Water Treatment Systems (POWTS) - The history, principles, laws & regulations; key design considerations, septic tanks & soil absorption fields, alternative technologies, and commercial/institutional systems.
3) Rainwater Harvesting - An introduction to the components of a rainwater harvesting system, including practical design considerations, sizing, filtration, and how to estimate the amount of water that can be captured.
Module #3 OSHA Safety Training for Plumbers (2 Hours)
This module is based on OSHA regulations and standards as well as recommendations by NIOSH, the EPA, and safety experts from private and non-profit organizations. The class explores all the significant risks plumbers face in a typical work environment (biohazards including raw sewage, hazardous chemicals, flammable vapors including sewer gases, electric shock, physical strains and the potential for traumatic injury) along with ways to mitigate or avoid those risks. This class will help you, if you have a plumbing business, craft and enforce better workplace safety and consumer protection or, if you work for a plumbing company, it will help you foster and pursue safer workplace.
Show Course ID: 1
Course ID(s):

2021-533

Approved By:

Nm Regulation & Licensing Dept. Construction Industries Div., Mechanical Bureau
Instructor Bio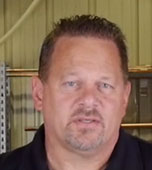 Randy Drake is a licensed, master plumber with over 32 years' experience in the industry. He founded a plumbing business in 1993 which he successfully sold in 2013. He currently works for a plumbing company based in Traverse City, Michigan.