Oklahoma 2018 Mechanical Code
All HVAC Journeymen and Contractors are required to have received six hours of continuing education units (CEU) within the 36 months preceding their license expiration. This 6-hour class satisfies the full six hours of required CEU. The class focuses on the 2018 International Mechanical Code® and Oklahoma amendments proposed by the OUBCC during its adoption in late 2021 as the basis of a new state mechanical code. Once adopted, CEU must be on the 2018 IMC®.
The class provides a comprehensive survey of every significant change made to the model 2018 IMC® during the 2015-2018 code review cycle. Each change is shown in a cut-and-paste format and accompanied by a discussion on the reasons for the change based on the deliberations of the ICC Technical Committees and the impact of the change on working HVAC contractors and journeymen. Amendments are incorporated where they appear in the 2018 Oklahoma Mechanical Code, with a brief explanation for each, based on the OUBCC's proposals.
1. Introduction to Oklahoma 2018 Mechanical Code, including Adoption of the 2018 IMC; Amendments to Chapter 1 [Administration]; and Amendments to Chapter 15 [Referenced Standards]
2. Changes & Amendments to:

a. Chapters 2 [Definitions] & 3 [General Regulations], including Commercial Cooking Appliances; High-Volume Large Diameter Fan; Low-Probability Pump; Pollution-Control Unit; 301.15 Wind Resistance; 303.9 Fireplaces in Medical Facilities; 304.11 Guards; 307.2 Evaporators and Cooling Coils; and 307.2.3.1 Water-Level Monitoring Devices
b. Chapter 4 [Ventilation], including Table 403.3.1.1 Minimum Ventilation Rates; 403.3.2.5 Ventilating Equipment; and 404.1 Enclosed Parking Garages
c. Chapter 5 [Exhaust Systems], including 502.15 Repair Garages; Section 505 Domestic Cooking Exhaust Equipment; 506.3 Ducts Serving Type I Hoods; 506.5.2 Pollution-Control Units; and 510.8.1 Duct Cleanout
d. Chapter 6 [Duct Systems], including 602.1 Plenums, General; 602.2.1.8 Pipe and Duct Insulation Within Plenums; 603.5.2 Phenolic Ducts; 603.8.2 Sealing; 604.1 Insulation; General; 07.3.2.3 Combination Fire/Smoke Damper Ratings; and 607.2.1 Ceiling Radiation Dampers Testing and Installation
e. Chapter 7 [Combustion Air], Chapter 8 [Chimneys and Vents], Chapter 9 [Specific Appliances]; and Chapter 10 [Boilers, Water Heaters and Pressure Vessels], including 805.8 Insulation Shield; 805.4 Offsets for Factory-Built Chimneys; Section 929 High-Volume Large-Diameter Fans; 1006.6 Safety and Relief Valve Discharge; and 1009 Hot Water Boiler Expansion Tank
f. Chapter 11 [Refrigeration], including Phase-Out & Addition of Refrigerants; Table 1103.1; Complying with EPA/IMC Regulations; 1102.3 Access Flammable Refrigerants & Group A2L Refrigerants
g. Chapters 12 [Hydronic Piping] & 13 [Fuel Oil Piping and Storage], including Tables 1202.4 & 1202.5 Hydronic Pipe & Hydronic Pipe Fittings; 1209.3 Embedded Joints; Table 1210.4 Ground-Source Loop Pipe; 1303.1.1 Joints Between Different Materials; and 1303.3.2 Mechanical Joints
h. Chapter 14 [Solar Thermal Systems], including an Overview of the Changes to Chapter 14; new definitions; Section 1402 Design and Installation; Section 1403 Heat Transfer Fluid; Section 1404 Materials Labeling; and New Standards
Show Course ID: 0
Approved By:

Oklahoma Construction Industries Board
Instructor Bio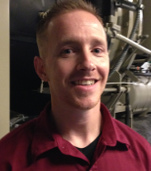 Dan Whaley, was trained in HVAC in the Air Force where he spent eight years after high school. His time in the Air Force gave him the opportunity to do everything from repairs of advanced systems to planning the development and implementation of preventative maintenance programs that were used in over 250 facilities.Dan is currently a Lead Technician for a one million square foot, 300+ bed medical hospital.

Since 2010 Dan has been an instructor with At Your Pace Online overseeing the development and class delivery of every HVAC offering that we have. The courses that Dan instructs have been used by tens of thousands of HVAC technicians, including many where online education had not previously been allowed.