Oklahoma 6 Hour 2018 IPC Code Changes and Amendments
This class fulfills the entire 6-hour continuing education requirement for Oklahoma journeyman plumbers and plumbing contractors in Oklahoma during this license renewal cycle.
The class begins with an overview of the 2018 IPC adoption process, CE requirements, and how the class will be presented. Key rules and statutes on licensing and on the adoption of the 2018 IPC with amendments are reviewed.
The balance of the class looks at 66 significant code changes made to the model 2018 IPC along with 35 Oklahoma amendments. Topics covered include new and revised definitions, Pipes Through Foundation Walls; Sewer Depth; Thermal Expansion Tank Support; Plumbing Fixtures for Outdoor Public Swimming Pools Size of Fixture Supply; Point of Use Reverse Osmosis Systems; Connection to Sewer Systems; Drainage Piping above Food Areas; Grease-Laden Waste Piping Slope; Solvent Cementing; Health Care Plumbing; Pipe Bursting Replacement of Building Drains; Engineered Vent Systems; and Roof Drainage Scuppers.
By the end of this course, students will be able to:
Better navigate the 2018 IPC and Oklahoma amendments;
Apply the latest IPC definitions;
Access the most recent referenced standards;
Avoid pitfalls that could result in cross contamination;
Minimize bacterial growth in the water system;
Prevent scalding of hot water users;
Provide sufficient fixtures in numerous occupancy types;
Ensure roof drainage is sufficient; and
Add the newest plumbing technologies, methods, and materials to their practice.
Show Course ID: 0
Approved By:

Oklahoma Construction Industries Board
Instructor Bio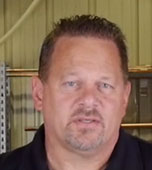 Randy Drake is a licensed, master plumber with over 32 years' experience in the industry. He founded a plumbing business in 1993 which he successfully sold in 2013. He currently works for a plumbing company based in Traverse City, Michigan.