Utah 3 Hour OSHA Safety Training
This course (course ID: 18111) covers every significant hazard likely to be present at a plumbing or HVAC job site, how to reduce the risks, and the responsibilities for ensuring workplace safety, including OSHA guidelines and reporting requirements. This course is approved to provide three hours of Contractor Core and Plumbing Core training.
Only Plumbing & Soft Water Contractors are able to receive credit for taking this course. All other contractor licenses will not receive credit for this course.
Show Course ID: 0
Instructor Bio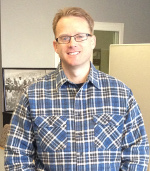 Mike Melvin, owner of At Your Pace Online, LLC, is the instructor and industry expert for many of our courses. Mike has owned, operated, and worked for numerous construction companies. Mike's relevant construction experience includes framing, concrete construction, foundations, and roofing. As the current owner and an approved lead instructor for At Your Pace Online, he teaches multiple courses pertaining to construction and business. With over fifteen years of experience in the industry, Mike combines his proven understanding of teaching online education with the practical and academic industry knowledge needed by our students, to allow them to complete their courses and get back to the job site.