Utah 16 Hour 2017 NEC Review
This 16-hour course will satisfy your continuing education requirements to continue practicing as an electrician in Utah. The course will begin with an overview of Article 90, the code-wide changes to the NEC in 2017, and the new articles you'll want to familiarize yourself with.
After that, we'll dive into Chapter 1, which provides the foundational principles for the subsequent chapters. Chapters 2, 3, and 4 cover the planning, building, and use of electrical systems.
In Chapter 2 we'll discuss wiring and protection practices for branch circuits, feeders, surge protection, ground connections, and more. Chapter 3 looks at the methods and materials that are appropriate to employ when wiring systems, to ensure a safe and reliable system is being built. Chapter 4 explains how to safely and effectively devices and systems according to the purpose of a specific electrical design.
Chapter 5 addresses special occupations in electrical work, covering some of the less common situations you'll encounter, and is likely the most complex chapter in the NEC. These special occupations can involve hazardous substances or situations.
Finally, we'll look at Chapter 7 of the NEC, which covers special conditions where electrical systems must be able to operate under duress, or where typical systems cannot operate. This includes the topics of optical fibers and raceways, special systems for remote-control operations, and fire-alarm systems.
Show Course ID: 0
Instructor Bio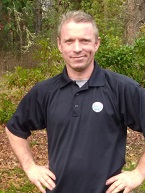 Charles "Chuck" Price is At Your Pace Online's Subject Matter Expert for the Electrical Trade. He started out in grocery management at the age of 18 and after 5 years decided to venture into the electrical trade in 1996. He served his apprenticeship and quickly became a foreman running work. He gained experience in many facets of the trade such as working on traffic signals, hospitals and healthcare buildings, waste water treatment plants, and many commercial applications including telecommunications data centers. He currently is working for the area's largest healthcare system.
One of his passions is working with kids - and that starts with his own two boys! He has coached youth football and basketball at several levels and is part of a men's organization that raises money for the youth as well. He is a leader in the local 4-H group, helping kids learn about animal science. All in all, Chuck focuses on being the best father he can be, while maintaining a firm grasp on the ever-changing electrical industry.