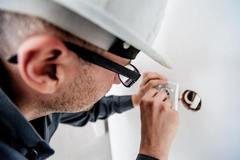 Written by Kacie Goff
Every evenly numbered year, Utah electricians have extra work to do. By November 30, your license will expire if you don't take any action. Fortunately, you can renew online and the fee is just $69, much lower than electrical licenses in many other states. Still, though, renewing can be a hassle if you don't stay on top of your continuing education hours.
The Utah Department of Occupational and Professional Licensing (DOPL) requires you to take a specific number of continuing education hours during each renewal period. And if that wasn't enough, they also mandate that a number of those must be what they call "core hours." To make sure Utah electricians take the right number of continuing education hours on the right topics — including the National Electrical Code (NEC) — we built this guide.
How many continuing education hours do Utah electricians need to renew?
During each two-year renewal period, the DOPL requires you to take 16 hours of continuing education. They offer an approved continuing education course lookup tool so you can easily find a course that both meets their requirements and aligns with your schedule.
To make the latter easier, many Utah electrical licensees choose to take their continuing education hours online. This way, you can knock out the hours you need anytime you have some space in your day or night. You just need a computer with an internet connection, meaning you can work on your hours at your office, house, or any other location that suits you.
What topics do these continuing education hours need to cover?
The DOPL requires that 12 of your 16 hours be what they call core hours. While contractors and plumbers have some flexibility in what their core hours can cover, electricians aren't so lucky. You need to make sure all 12 of your core hours focus specifically on the NEC.
Your other four hours can continue focusing on the NEC or you can use them to learn about other professional topics. The DOPL clarifies what these extra hours can cover, saying, "Professional topics include subjects dealing with the practice of the construction trades, such as land development; planning and zoning; energy conservation, professional development; marketing; servicing clients and similar topics. In addition, plumbers and electricians may have construction law; OSHA courses; government regulations pertaining to construction; employee verification and payment practices (I-9, Workers Comp, Unemployment Insurance, etc.) for Professional credit."
If there's a specific topic in that list you've been wanting to learn about, you can use your four hours toward it. That said, make sure you set aside 12 hours for the NEC.
Say, for example, that you want to take some hours on fire code and safety. Unless you want to take extra continuing education hours, look for a course that doesn't exceed four hours. That way, you still have 12 remaining hours to dedicate to a course that focuses on the NEC.
If you still have questions about your Utah electrician continuing education, we recommend DOPL's continuing education FAQ page for more information.
Get the required 16 hours, make sure 12 of them are on the NEC, and you should have no trouble renewing your Utah electrical license.