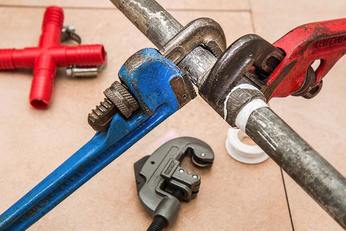 Written by Kacie Goff
If you work as a licensed plumbing professional in the Badger State, you know you need to renew your license periodically. But don't wait until you receive a renewal notice from the Department of Safety and Professional Services (DSPS) to start thinking about your renewal. You'll need to complete continuing education hours before you can finish your renewal application. Starting on those hours in advance can help you breeze through the process and keep your license active, sweat-free.
But how many hours do you need, exactly? And, perhaps more importantly, what's the easiest way to knock them out? Let's take a quick look at the continuing education requirements for Wisconsin plumbers by license type.
Continuing education requirements for Wisconsin journeymen plumbers
To make sure you're staying on top of the latest in plumbing safety, codes, and more, the DSPS requires each journeyman plumber to take 24 hours of continuing education during each renewal cycle. Your renewal is due March 31, so you need to have your hours finished by the date.
Don't just head to a random classroom and start sitting in on hours. You need to take your continuing education with a provider that the DSPS has approved. They keep a running list of providers they've greenlit. And, fortunately, some of them offer the hours you need online so you can take them at your own pace whenever it's most convenient for you.
Continuing education requirements for Wisconsin master plumbers
Master plumbers, don't worry. Although getting your master plumber license may have been more involved than getting the journeyman license, your continuing education requirements aren't more difficult. In fact, you need to complete the same number of hours as journeyman plumbers: 24. These hours are due by the renewal date, which is March 31.
And, like your fellow journeyman plumber, you have plenty of choices for DSPS-approved education providers and can take these hours online.
Continuing education requirements for Wisconsin journeyman and master restricted plumbers
Because you hold a restricted license, you have fewer required continuing education hours than the previous two license types. Each renewal cycle (which also ends on March 31), you need to complete 12 hours.
Make sure you take them from a DSPS-approved provider and don't forget that you can knock out your hours online.
Checking your completed continuing education hours and renewing your license
If you're not sure how many continuing education hours you've completed during this renewal period, don't worry. You can use the DSPS's credential/license search tool. Under "Trades Credential/License Search," enter your credential number. Click your name when it comes up. You should see the total number of hours you've completed there.
Once you finish all 12 or 24 hours and are ready to renew your license, you can complete your renewal online. Have a credit card handy so you can pay your renewal fee in that portal. Journeymen and journeyman restricted plumbers, your fee is $180. Master and master restricted plumbers, you'll need to pay $500 to renew.
You can chip away at your required continuing education hours as you have time throughout the year. That way, they won't present a serious obstacle to your renewal come March.