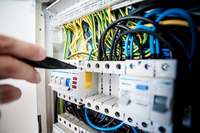 Written by Kacie Goff
Each time you need to renew your Kentucky electrical license, you have to do a few things. You need to fill out the renewal form (fortunately, it's only two pages long). You need to pay the renewal fee. And you need to complete the required Kentucky electrician continuing education.
You might think you could gather the information you need about that continuing education on the Kentucky Department of Housing, Buildings, and Construction continuing education webpage. But that page is sparse, to say the least. And that presents a problem since the state has specific requirements around the organization that provides your continuing education and what they teach you during the required hours.
Don't worry. We scoured the state code to gather all the information you need to make sure your Kentucky continuing education covers the right topics to count toward your license renewal.
A quick refresher on the hours you need and where to take them
If you're already confident you know how many hours you need for your Kentucky electrician license renewal and you have a state-approved provider with which you can take them, you can skip to the next section.
But if you want a quick refresher, here you go. Kentucky state regulation mandates that all electricians (EEs, MEs, and CEs) take six hours of continuing education during each renewal period. You can take those hours online at any time in the year leading up to your renewal date. If you ever have a slow season, for example, you can chip away at them.
You can't just head to your local community college and find some loosely applicable hours, though. You need to take your Kentucky electrician continuing education from a state-approved provider. The state has approved both in-person and online courses. Make sure you take your hours from an organization on one of those lists or they won't count toward your renewal.
But that's not the only stipulation surrounding your hours. They also need to cover specific topics. Let's take a look at what the state wants you to learn.
The topic requirements for Kentucky electrician continuing education
815 KAR 2:010 of the state code outlines the specifics of the continuing education Kentucky electricians need to renew their licenses. Specifically, it says that journeyman electricians (EE) and master electricians (ME) need to take hours that focus on:
Job safety

Electrical industry codes

Electrical trade-related subject matter
If you're an electrical contractor (CE), your six hours need to focus on:
Clearly, those are some pretty broad umbrellas, but it's still important to make sure you take the right courses for your specific license type. Some providers specifically tailor different courses to individual license types to help you make sure you're ticking the right boxes.
Before you start taking a continuing education course to get hours toward your Kentucky electrician license renewal, make sure you double-check that the course subject matter aligns with the state requirement for your license. Do that — and send your renewal form in on time with the right fee — and you'll have an easy time keeping your license active.