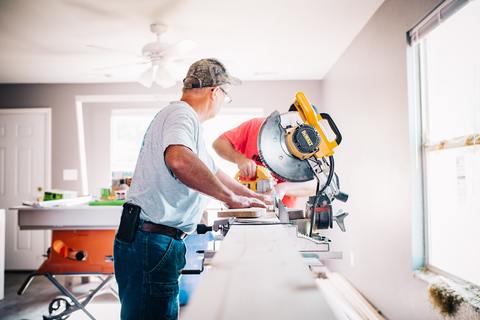 Written by Kacie Goff
If you want to work oversee new home construction or residential remodeling work totaling 25% or more of the home's value in Alaska, you'll need two things: an Alaska contractor license and an Alaska residential contractor endorsement. Getting both of these pieces in place takes a bit of work, but don't worry. We've built this guide to walk you through the process.
Follow these steps and you'll have the Alaska General Contractor with Residential Contractor Endorsement license you need to work on new homes and home remodels throughout the state.
Getting your Alaska general contractor license
First up, you need to get your general contractor license. In the state of Alaska, residential contractors don't get a dedicated license. Instead, they get an endorsement that allows them to do residential work. You need something to which you can attach that endorsement, and that something is your general contractor license.
Fortunately, getting that license is as simple as submitting this Construction Contractors Application — once it's signed and notarized — along with all of the required pieces. Those pieces include:
A surety bond of the state-required amount based on your contractor type (it's $20,000 for general contractors with residential endorsements)

A certificate for the right amount of liability insurance

Evidence of the right amount of workers' compensation

A fee of $350
The application outlines the specifics of these additional items. Read it through, attach the right documents, get your application notarized, and mail in the entire packet. The state will review your application, then — assuming everything's in order — issue you a general contractor license with a license number. You'll need that number to get your residential endorsement.
Getting your Alaska residential contractor endorsement
To add a residential endorsement to your Alaska contractor license, you need to do three things:
Take the required 16-hour course. The state requires a 16-hour cold climate course for residential contractors. Fortunately, you don't need to head to a classroom to complete these hours. The state has approved certain education providers to offer these courses online so you can take them at your convenience. Once you complete your course, you'll get a certificate. Hold onto it; you'll need it in Step 3.

Pass the Alaska residential contractor endorsement exam. The exam is four hours long, open book, and comes with a $150 fee. You only need to get a 70% to pass and can use this bulletin to prepare. You can sign up to take your exam online on this webpage. Click the "Sign In or Create an Account" button at the button to make your account and sign up for an upcoming Alaska residential contractor endorsement exam. Alternatively, page 9 of the bulletin we just linked has an exam registration form you can print out, complete, and mail or fax in to get signed up for an upcoming test.

Submit your application. Once you've completed your course and passed the exam, you can send in your Residential Endorsement Contractor License Application. The application itself is very simple, but make sure you include a copy of your exam results, your Certificate of Completion for your 16-hour course, your contractor license number, and the $350 fee. Get your application notarized and mail it in with those accompanying documents.
Once the state reviews and approves your application, they'll issue you an Alaska General Contractor with Residential Contractor Endorsement license and you'll be ready to start overseeing residential builds and remodels.